When Nepal introduced Covid lockdowns in 2020, it had a big impact on the agriculture sector. Smallholder farmers and SMEs were among the hardest hit. Sales in the dairy sector declined by 30% and vegetables sales plummeted by more than 40%. Farmers, who usually made a good return from vegetable and milk, were forced to dump produce as markets evaporated.
The pandemic created a paradigm shift in consumer and business to business behaviour. Consumers became reluctant to mingle in crowded public places and retail outlets closed. This meant that digital shopping, or e-commerce solutions became one of the tools which retailers used to maintain their revenue. 
CASA Nepal worked through its networks to identify businesses that worked in dairy and vegetable value chains. They eventually selected eight businesses and one cooperative to work with to operationalise e-commerce platforms. The partnership offered the enterprises an integrated package including software, training and operational support to get them trading online.
To access the e-commerce platform, the customers just had to download an app to their smartphones or visit the company website.
In January 2021, internet penetration in Nepal was at around 37% of the population, or 10.7 million people. Social media usage jumped 30% in the 12 months to January 2021 to reach an estimated 13 million users. Mobile phone ownership is at around 130%, as many people have more than one phone.
The aim of introducing the e-commerce platforms was to increase the SMEs' revenue and transaction volumes. This in turn would guarantee the income of the farmers in their supply chain. CASA also wanted to increase business confidence in relation to technological adaptation and encourage growth in the digital sector, especially amongst agri-businesses.
E.K Solutions Pvt. Ltd, a leading software business in Nepal and part EKbana group was selected to deliver the e-commerce platforms because of their experience in retail and food delivery sectors. However, they had not previously worked with agri-SMEs.
EKbana proposed using Koklass, their cloud-based mobile e-commerce platform. This presented good value for money because all the clients use the same base platform and modify their individual systems according to their own requirements. The Koklass system is designed with the best-in-class integrated tools and industry-proven processes to address SMEs needs and enable their growth.
Gaurav Pandey, the founder of E.K Solutions said: "There is huge need for digitization and e-commerce. Not all SMEs in Nepal can afford to build and operate its own ecommerce solution, so Koklass has been a bridge for businesses to go online and provide customer service via mobile e-commerce solution at an affordable price."
Ritu Poudyal, from CASA Nepal explains: "The pandemic meant we had to move very fast to make a difference for the smallholder farmers. E-commerce enabled the companies we supported to continue selling their products and communicate with their customers. Hence, they could continue milk and vegetable collection from the smallholder farmers. Without the boost of online sales, the smallholders' livelihoods would have been in jeopardy."
Moushumi Shrestha is a director of Shreenagar Agro Farm, whose produce and agricultural inputs businesses were selected to be part of the CASA programme. She explained: "During the first lockdown, we were on the verge of closing all our Golden Fresh Mart outlets as we did not see any headway for the outlets to run in a profitable way.
CASA gave us a new direction to operate our business by introducing digitisation. Before the lockdown, we were taking orders for goods over the phone from existing customers but with the introduction of Golden Food app, the whole operation became simpler and more efficient."
Summary of the organisations supported by CASA Nepal
SME
Type of business
Krishi Fresh Pvt. Ltd.
Private agricultural company Vegetables
SK Dairy
Newly established private dairy Processed dairy produce: Milk, yoghurt, ice cream, ghee, mohi (buttermilk), paneer and khoa.
Shreenagar Agro Farm
(Golden Fresh Mart) Ltd.
Private agri-business enterprise Integrates technology into agro and poultry production, and fresh daily produce to consumers.
Ayumi Himalayan Agro
Private agricultural company Fresh produce
Raithaane Agri Products Nepal
Private agricultural company Produces and markets, conserves, and authentic Nepali local products.
Hetauda Dairy
Private dairy company Processed dairy produce
Delish Dairy
Newly established private dairy company Processed dairy produce – first dairy in Nepal specializing in Greek and flavoured yoghurt.
Crown Agro Tech Pvt. Ltd. (Mero Kisan)
Private agricultural company Collects fresh vegetables and fruits from various locations and supplies it to customers and businesses after packing and grading.
Harit Agricultural Cooperative Ltd.
Agricultural cooperative Farm produce
The digitisation programme also impacted on Shreenagar's farm supplies business (see case study). Through the partnership between CASA and EKbana, Shreenagar Agro Farm and its 6,000 farmers were able to continue to operate their business and gain income despite the countrywide lockdown.
The success of the intervention has also helped to promote digitisation among agri-businesses and their customers. Ritu Poudyal, from CASA Nepal concludes, "Smallholder farmers were at risk of losing a significant part of their income because of the changes in the way shops and markets operated. By providing home delivery service to their online customers, Shreenagar was able to continue sourcing products from all of their smallholder farmers."
Case Study: Shreenagar Agro Farm (Golden Fresh Mart):
Shreenagar Agro Farm is a one stop solution for farmers, supplying seeds, feeds, financial and technical services, and market linkages. The company has more than 300 employees and works with over 5,000 farmers.
Working with CASA Nepal, Koklass e-commerce website and mobile application was introduced to Golden Fresh Mart and Yumyum cafe subsidiaries.
The pandemic has created an environment where SMEs have had to adjust to new norms of online buying. With continued uncertainty, experts predict that brands which are most agile in meeting new norms of customer behaviour will prevail.
A new approach to e-commerce
"Selling through digital platform has made the life of sellers and customers much easier and it is most helpful during the time of lockdown, but we need to make it a habit for our customers even during normal times, to bring stability in our business. Awareness needs to be created, continuous service needs to be provided, we must be updated with the behavioural change and need of our customers to satisfy all their demands. Data analysis needs to be done continuously and EKbana has provided that service including the marketing package."

Moushumi Shrestha – Director (Shreenagar Agro)
Before the pandemic, to drive sales, Shreenagar used Facebook, WhatsApp and other online business platforms including Foodmandu, Foodmario and Bhoj Deals. They also had a lot of sales through order placement by phone. However, managing orders from several different platforms, and paying for its online rental space was costly.
Shreenagar could see that a user-friendly online platform, with improved customer support services, could drive sales, despite the pandemic. Without CASA's support, Shreenagar would have been hesitant to develop an e-commerce approach.
The partnership between Shreenagar Agro Farm and CASA ended in April 2021. Shreenagar now see the digital solution becoming permanent because the integration of digitisation has benefited farmers as much as it has helped sustain the company.
Shreenagar Agro Farm's mobile application: Available through both the Apple App store and Google playstore (Golden Food)
Ms. Moushumi said, "It really helped us to promote our approach of farm to fork. We could highlight the farm fresh products at the consumers level in an integration model. In the process, we are also introducing the QR code to show the traceability of the product to win the confidence of the customers using block chain. We felt proud and satisfied to help farmers with the market linkages facility in this digital platform.
We plan to continue using the digital platform and increase our customer base with aggressive marketing, strong quality control and improvement of our products.
The company also plans to introduce a hybrid shop, where customers can digitally explore the product, place the order and get them delivered safely at their doorstep."
The Challenges
Going online was challenging for Shreenagar. It required them to increase costs when business was slow. These costs included a monthly subscription to the online platform, and increased investment in marketing to generate sales from new and existing customers.
The staff had poor digital literacy. They lacked the technical know-how to maintain and manage an online platform. EKbana provided both digital literacy training and an expert support team. This team also supported data and cyber security needs of the company.
The priority for June 2021 is to provide better customer service, especially to customers with low levels of digital literacy, encouraging increased virtual user engagement. This is a part of Shreenagar's commitment to differentiate themselves from their competition by providing a user-friendly online experience.
The Success
The company has attracted dozens of users to its platform through extensive promotion of its online platforms using SMS and WhatsApp chat groups. In addition, through various deals and packages, they have been able to attract more customers. Shreenagar Agro Farm achieved nearly 1,000 sales without external marketing support.
During the country-wide lockdown from March to July 2020, customers started switching to online shopping. Even after July, most of the shops remained closed. Use of vehicles was restricted and people remained hesitant to shop in crowded places.
In the first month, online platforms of Shreenagar received around one sale a day on average. This increased steadily to 127 in April 2021.
When the government imposed a second lockdown from April 29, 2021, total number of users utilizing the e-commerce platforms increased significantly to 229 (55% increase).
The user-friendliness of the personalized app and website helped drive sales. Customers preferred to order through the new platforms rather than purchase from other smaller websites or systems that provided a common platform for various businesses to sell their products in one place.
For Shreenagar, the e-commerce platforms made their business more systematic than the platforms they used previously.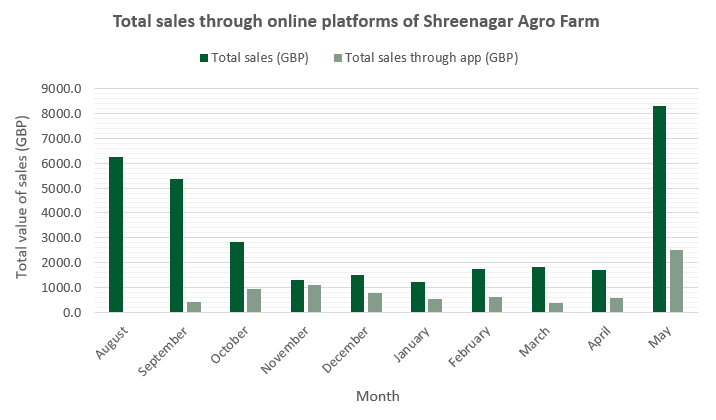 The sales through the online platforms have been increasing steadily and helped Shreenagar increase its revenue and capture a large group of customers that prefer to shop online. However, the company still requires external dedicated marketing support to expand its customer base, retain its existing customers and increase its sales volumes.
This was EKbana's first time working with an agri-business company. The success that came from working with nine CASA supported applications meant that EKbana now sees the scope of working with more agri-businesses.
Gaurav Pandey, of EKbana said: "Agri-businesses face the toughest challenge to go digital and get the most out of e-commerce. However, they also have a huge potential to be at the fingertip of their customers so, we have made our focus to support agri-businesses to go online."
Shreenagar will need to keep innovating if it is to stay ahead. Customers are still using other online platforms and will need some persuading to switch to Shreenagar Agro's web application.
Golden Food (goldenfreshmart.com)
Shreenagar Agro Farm's web application (products, order placement, checkout)
Shreenagar Agro Farm's staff providing home delivery service during the COVID-19 lockdown
Shreenagar Agro Farm's marketing campaign for Mother's Day 2021