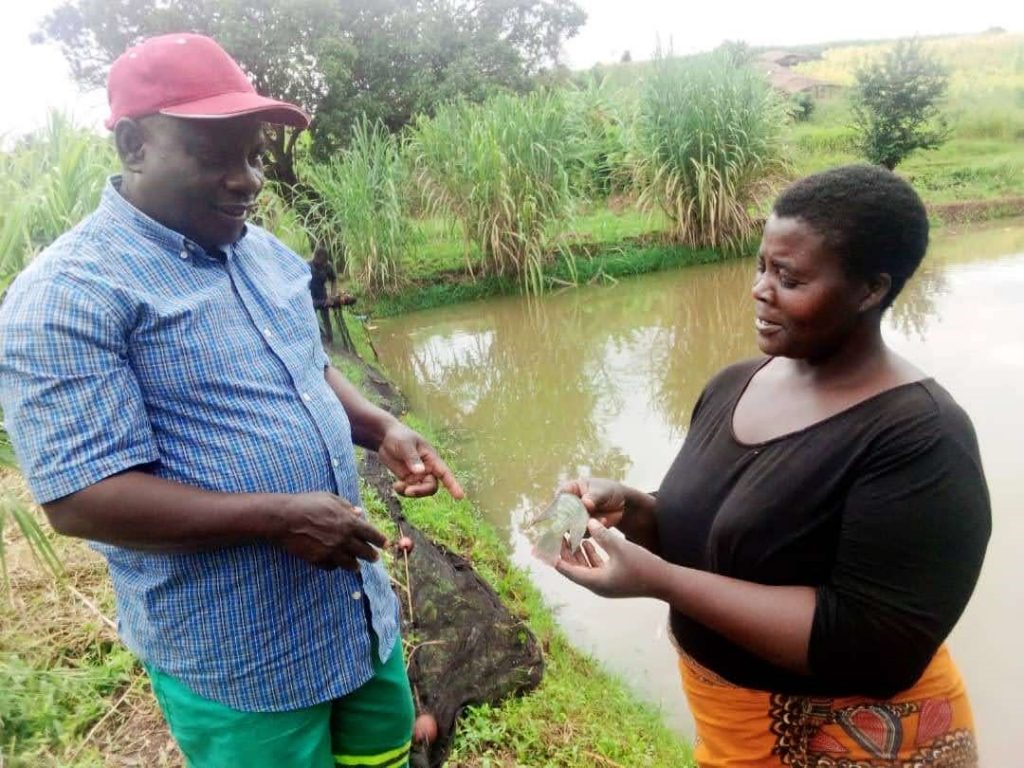 The aquaculture sector in Malawi is characterised by poor linkages along the value chain. Without effective links between the smallholder farmers, firms that carry out the marketing of the fish and the consumers, there is a lot of waste and missed opportunities along the chain.
Viphya Chambo partnered with CASA Malawi to improve the participation of smallholders in its supply chain. By collaborating with "anchor firms" such as Viphya, fish farmers can access affordable and better-quality inputs such as fingerlings and feed. The fish farmers also learn about enhanced production techniques that help them get a fair price for their fish.
Viphya Chambo
Viphya Chambo is an upcoming aquaculture enterprise owned by the Mwangonde Family. They are in Mzuzu City, northern Malawi. Before partnering with CASA, the enterprise mainly sold fish from their own farm production. Their modest annual production of 4 metric tonnes, from their own farm, hardly satisfied the demand in their outlets in Mzuzu city.
Meanwhile, in Ntchenachena in Rumphi District, 70 km north of Mzuzu city, farmers produced fish in isolation from companies such as Viphya Chambo and were not able to access the lucrative urban markets. Hence, they struggled to find reliable markets for their fish and sold their produce significantly below the market price, making it very difficult to make a profit. At the same time, high quality floating feed is mostly imported from Zambia at steep prices makes it difficult for ordinary smallholder aquaculture farmers to acquire feed.
Viphya Chambo piloted a fish aggregation and offtake model. This is an arrangement whereby the firm agrees to purchase the out of 72 smallholder fish farms in Ntchenachena. The model was piloted to foster linkages between smallholders and firms in the aquaculture sector, and through the model, smallholders had a ready and competitive market for fresh fish while the firm's capacity to meet the ever-growing demand was enhanced.
CASA's role
Boosted fingerling production:
136,000 > 2 million
Reduced production cycle:
12 months > 6 months
Supplied:
72 farmers with 120,000
fingerlings each
Impact following CASA's partnership with Vipha Chambo
As part of the partnership, CASA engaged an aquaculture production expert between August and September 2020 to work with Viphya Chambo. With a practical approach, the specialist trained Viphya Chambo´s technical director, Odoi Mwangonde and the operations manager Manasseh Mwangonde in the production of fast-growing sex-reversed fingerlings. Mono sex fingerlings attain optimal weight faster as reproduction is inhibited.
The firm set-up a greenhouse-based breeding system to mitigate the risks of delayed growth arising from cold weather in Mzuzu. With this new system, the company managed to boost its fingerling annual production capacity from about 136,000 to about 2 million. With this increased capacity, Viphya Chambo was able to supply 72 contracted farmers with around 120,000 high-quality fingerlings each.
Furthermore, Viphya Chambo procured and distributed 1.4 metric tonnes of floating fish feed. This enhanced the productivity of smallholder farmers who previously used fertiliser and maize bran to feed their fish. Access to good quality fingerlings and high-quality feed reduced the production cycle for these farmers from an average of 12 months to 6 months.
Viphya Chambo is now supplying more fish to Mzuzu due to the extra volume from the contracted smallholder producers. The model has facilitated linkages between stakeholders at different points of the value chain, encouraging them to work together.
The aggregation and offtake model has boosted livelihoods for farmers while also increasing profits for off-takers. At the same time, the urban population benefit from increased availability of nutritious fish. During a following scale-up phase an additional 550 smallholder farmers were contracted by Viphya.
This model has now been replicated in the central region of the country involving other upcoming anchor firms. CASA has partnered with APAC Investments and Ndagha Sustainable Foods Limited (NSFL) to roll out two separate projects involving aggregation and off-taking model. A total of 3,000 farmers are expected to be linked to these two SMEs. These farmers are going to be trained in best aquaculture management principles.
With a higher productivity, the farmers will aggregate and sell their fish to APAC and NSFL. This linkage will ensure a readily available and lucrative market for the smallholder farmers, whilst also ensuring adequate volumes for the two firms' outlets.
Further information
Watch the pitch by Falesi Mwangonde, Managing Director of Viphya Chambo during the AGRF Deal Room 2021, here.